Hello and thanks for visiting the Center for Organizational Learning website. This business was founded in 1993 by Dale Perryman. In 1993, Dale Perryman was working for ARCO Oil and Gas Company in downtown Dallas. During a corporate downsizing, Dale walked across the street to Thanksgiving Square to reflect upon his career options.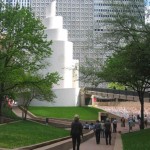 At this time, Dale envisioned what would eventually lead to his 19 year career path.
Dale has been heavily influenced by Steven Covey and has taught the 7 Habits of Highly Effective People for 25 years. In fact, he probably has more experience teaching the course than any other trainer in the world. Dale has also been heavily influenced by Kenneth Blanchard creator of Situational Leadership and Peter Senge author of The Fifth Discipline.
This site lists trainers (primarily Dale Perryman) although Dale has plenty of colleagues that he can access if he runs into projects that require extra resources.
The site describes services including custom workshops, apps, assessments, coaching, product development, and non-profits. The resources include the jackofalltraining blog, and articles.
If you find anything interesting, contact us and let's discuss the possibilities of working together.